HSBC Plunges After Missing Profit Estimates on Revenue Drop
HSBC Holdings Plc dropped the most in 18 months in London trading after reporting fourth-quarter profit that missed estimates on a surprise drop in revenue, which it warned could fall again this year.
HSBC reported a $3.4 billion pretax loss for the quarter that it blamed on slowing growth in its core markets of Hong Kong and the U.K., while its adjusted profit fell $1.2 billion short of analyst estimates. The lender said it will buy back $1 billion of stock in the first half and signaled it may repurchase more later this year.
Chief Executive Officer Stuart Gulliver is battling to reverse five years of declining revenue as he pares back HSBC's sprawling global footprint and reduces expenses. The bank increased its cost-cutting target by $1 billion to $6 billion of savings, while cautioning it faces more than $3 billion of revenue headwinds in 2017, including currency movements and record-low interest rates in the U.K. Executives also warned U.S. President Donald Trump's protectionist stance and Brexit could damage their business.
"Pretax profit is a large miss versus consensus" with "weakness in revenues across all major line items," Citigroup Inc.'s Ronit Ghose said in a note titled "Weak Revenues, Messy Quarter." Ghose also noted "an unusually large amount of one-offs" in the period, including a multibillion-dollar writedown on the value of its scandal-hit European private bank.
The stock plunged as much as 6.8 percent, the most since August 2015, and traded at 665 pence at 10:50 a.m. in London. Still, the shares in London have surged about 46 percent since the U.K. voted to leave the European Union on June 23, the most of any major European bank.
HSBC has now lost about $20 billion of revenue since Gulliver took over in 2011. Pretax profit on an adjusted basis, which excludes one-time items, jumped 39 percent to $2.62 billion, Europe's largest bank said in a statement on Tuesday. That missed the $3.78 billion average estimate of six analysts compiled by Bloomberg News.
HSBC's buyback adds to $2.5 billion of repurchases it made last year as capital was freed up from the sale of its Brazil unit. Gulliver said in a telephone interview that the firm may do additional repurchases this year, and Chief Financial Officer Iain Mackay said on a conference call that the firm could free up $8 billion from its U.S. operations. Analysts at Goldman Sachs Group Inc. boosted their forecast to $3.5 billion of buybacks in 2017.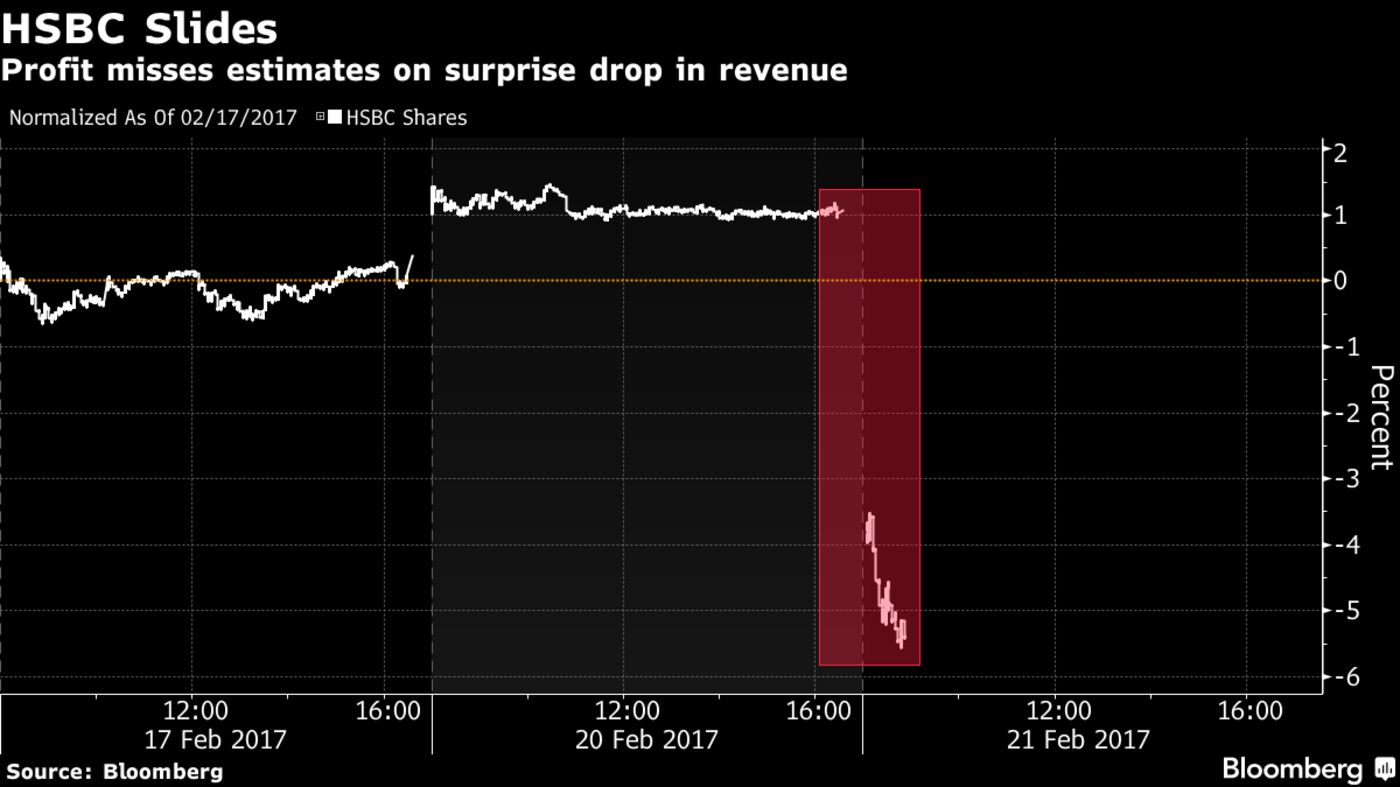 Adjusted revenue in the fourth quarter fell 3 percent to $11 billion, less than the $12.4 billion analysts expected. Part of the drop was due to swings in the value of swaps tied to the firm's own debt. Still, for the year, the bank cut costs faster than revenue fell, a measure the bank calls "jaws" and identified as a key initiative.
Profit in all four of the bank's operating divisions and its five geographic regions fell short of estimates from UBS Group AG analysts. The bank reported a common equity Tier 1 ratio, the key measure of financial resilience, of 13.6 percent, compared with 13.9 percent at the end of September.
Revenue "came in 11 percent below consensus estimates, missing on all key business units," Sanford C. Bernstein analyst Chirantan Barua said in a note to clients. Capital also disappointed at 20 basis points lower than expected, he said.
One bright spot for HSBC was that it joined its global peers in benefiting from the surge in fixed-income and currency trading last quarter. Adjusted pretax profit from the Global Banking & Markets division, which houses the investment bank, almost doubled to $1.3 billion.
The unadjusted loss was driven by $6.1 billion of "significant items" in the quarter, more than six times what Credit Suisse Group AG analysts had forecast. The items included a $2.4 billion writedown of the value of its European private bank and a $1.6 billion adjustment in the bank's own credit spreads.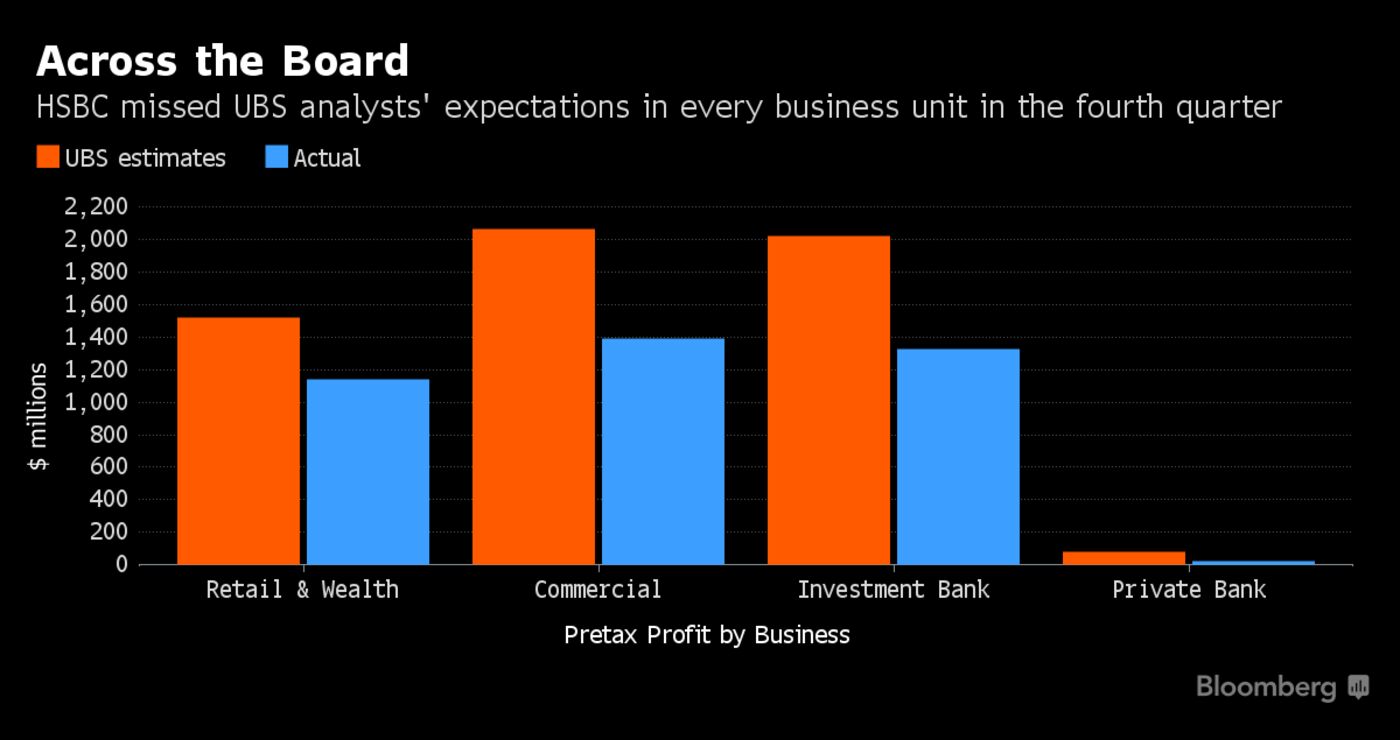 HSBC bought its European private-bank businesses in 1999, paying $9.85 billion to acquire Edmond J. Safra's Republic New York Corp. and Safra Republic Holdings SA. The Geneva unit was at the center of the so-called Swiss Leaks scandal in 2015, which showed the business harbored the cash of tax dodgers, drug cartels and arms dealers. HSBC has said it's since overhauled compliance and risk controls.
Since Gulliver started restructuring in 2011, he's slashed more than 40,000 jobs and has pledged another 25,000 cuts, exited at least 80 businesses and reduced its global footprint to 70 countries and territories from 88. Investors need to lower their expectations as a 10 percent return on equity is probably the best a large universal lender can do, the CEO said in January. HSBC is still far from that — the firm reported a 0.8 percent return on equity for 2016, down from 7.2 percent a year earlier.
The bank said it was under investigation and could be fined by the U.K.'s Financial Conduct Authority over possible failures relating to money laundering and financial crime controls.
HSBC, the world's largest trade-finance bank, noted the dangers of "possible protectionist measures from the new U.S. administration impacting global trade" in Chairman Douglas Flint's outlook in the annual report. Flint also said "the threat of populism" in European elections and Brexit negotiations could harm the bank's operations.
Gulliver, 57, and Flint, 61, are the longest-serving duo heading a major European bank. HSBC said last March it will nominate a replacement for Flint sometime in 2017, and the chairman said in Tuesday's statement the process to find his successor remains "on track."
However, Gulliver said on a call with reporters that while the bank still expects to identify a successor this year, there is currently no shortlist of candidates and Flint may not step down until 2018.