Loonie Rises to Four-Month High as Canadian Economy Gains Speed
The Canadian dollar advanced to the strongest level since September amid a waning rally in its U.S. counterpart and positive signals from the Canadian economy.
The currency briefly broke past C$1.30 per U.S. dollar for the first time since Sept. 9 on Tuesday to trade at C$1.3025, up 0.7 percent on the day, at 3:04 p.m. Tuesday in Toronto. The surge extended its gain against the greenback to more than 3 percent in January, its first monthly increase since the middle of last year.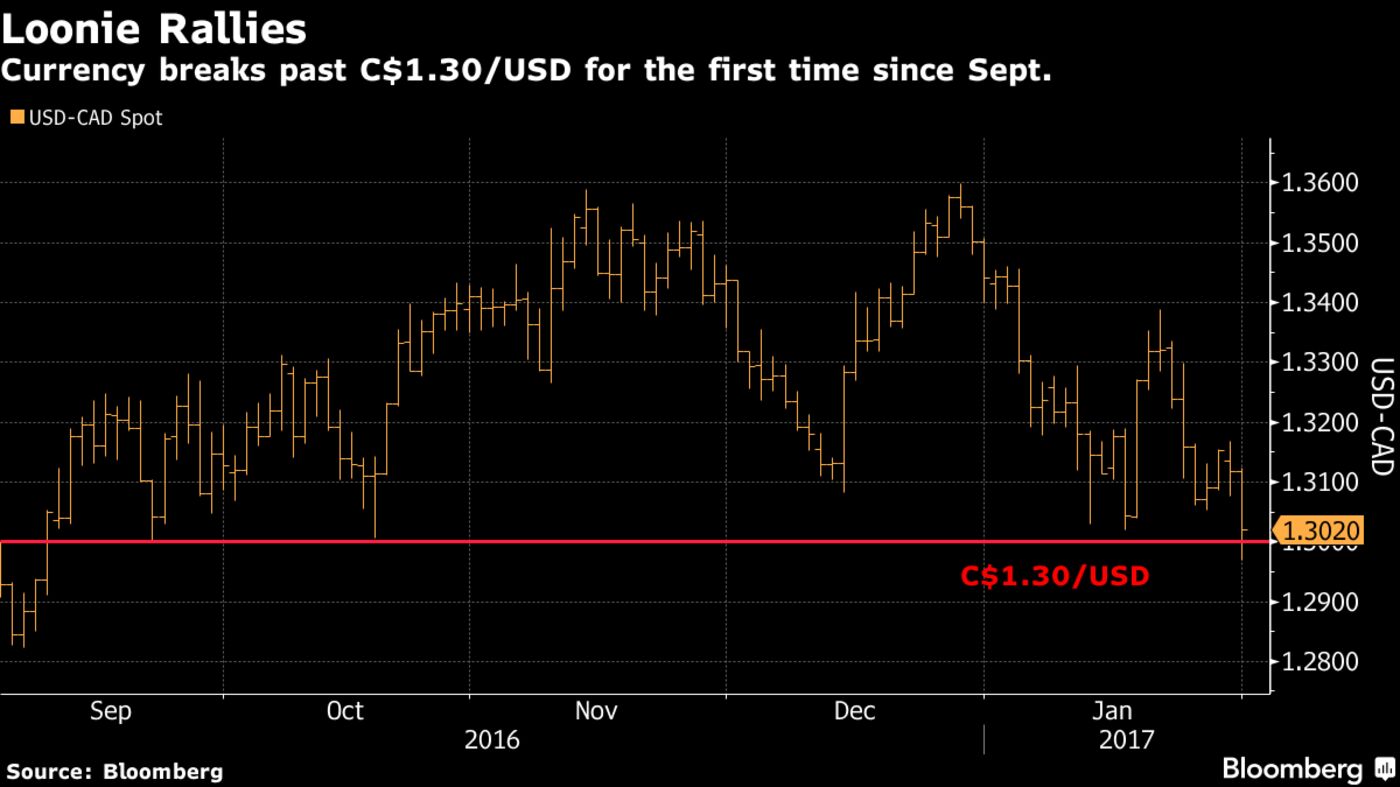 Canada's currency has gained as the U.S. dollar rally lost steam amid increased uncertainty over policies imposed by the new U.S. administration under President Donald Trump. Data published today showed Canada's economic growth accelerated at a faster-than-expected pace in November, bolstering the currency amid optimism the Bank of Canada may not need to ease monetary policy.
"It's not just the GDP data. The labor market has also been looking increasingly better," said Vasileios Gkionakis, head of global foreign-exchange strategy at UniCredit Group SpA in London, who expects the currency to strengthen to C$1.22 against the dollar by the end of the year. "The theme of Canadian dollar strength and broad-based U.S. dollar weakness remains largely in place."
Gross domestic product increased 0.4 percent in November, higher than economist expectations of 0.3 percent, Statistics Canada reported today in Ottawa. Manufacturing as well as mining and oil and gas, which were all struggling last year, grew 1.4 percent.
The data, along with other releases from earlier this month, are "beginning to paint a relatively more positive overall picture of the Canadian economy," David Wagner and Charles St-Arnaud, economists at Nomura International Plc, wrote in a note. "If sustained, these developments should be positive for the currency in the medium run."