Biotech Deals Will Bounce Back in 2017
Biotech could really use the clean slate of a New Year. The Nasdaq Biotech Index collapsed 28 percent in the opening weeks of 2016 and never fully recovered, ending the year down about 22 percent.
One of the culprits has been a slowdown in big-time M&A — particularly damaging for a sector that needs deal speculation to boost the share prices of companies years away from actually marketing a drug.
Some of the uncertainty that kept a damper on deals last year will remain; President-Elect Donald Trump is a wild card. But the fundamentals for deals are strengthening.
Pharma is a furnace that constantly needs drug candidates to replace failed projects and expired patents, and baby biotechs are the coal.
The need for new ideas only grew more acute in 2016. A recent Deloitte study found the R&D productivity of 12 of the biggest biopharma companies, measured by expected return, has hit a seven-year low.
M&A didn't exactly grind to a halt in 2016; 326 deals worth about $91 billion got done. But that was down from $118 billion in 2015. And those 326 deals marked the lowest number of deals in six years. Shire's purchase of Baxalta — a resurrection of a deal first attempted in 2015 — accounted for more than a third of the total deal spending in 2016.
There's plenty of firepower to get deals done. The 14 biopharma firms with the most cash had more than $220 billion in cash and marketable securities on hand at the end of the third quarter and can raise plenty more in debt on top of that. Sluggish near-term sales growth adds to the motivation for many firms to act.
More of that cash will likely be unlocked if and when the Trump administration makes it cheaper to repatriate cash held overseas. Johnson & Johnson, Amgen Inc., and Gilead Sciences Inc. have the most M&A-friendly combination of cash and back-of-the-pack sales growth. But there are many other contenders.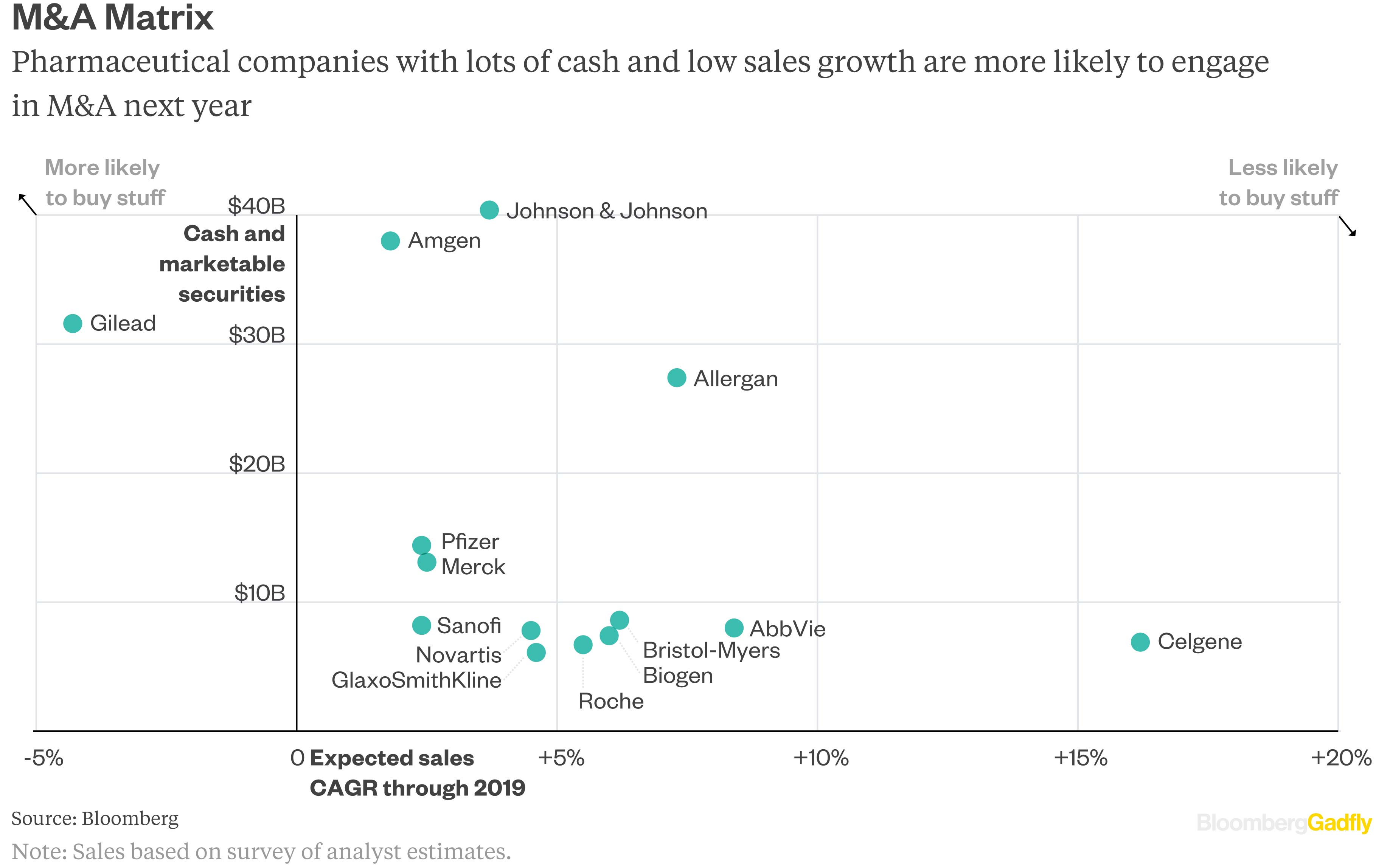 Sanofi, for example, has relatively little cash. But its sales growth prospects are so sluggish, as its biggest medication Lantus faces competition, that it may spend as much as $30 billion buying Actelion Ltd.
And though AbbVie Inc. is expected to produce stellar sales growth for the next few years, that will be almost entirely on the back of one drug, Humira. If a series of legal disputes don't go its way, then that drug could face competition sooner than expected. AbbVie has been one of the biggest spenders in the past two years, but it's a candidate for even more M&A.
Caution is still warranted, and not every potential target is a gem. Sanofi wasn't exactly being applauded for its potentially expensive pursuit of Actelion; its shares fell 4 percent after Johnson & Johnson briefly dropped out of the fray and rose once J&J returned as the exclusive bidder.
But with so many firms having a perfect combination of cash and need, expect caution to fly to the winds in 2017.
— With graphics by Rani Molla