Crude Oil Climbs From 12-Year Low as Investors Search for Bottom
Oil rose from its lowest close in more than 12 years as investors tried to pick a bottom after government inventory data.
Futures rose 4.2 percent in New York. U.S. supplies climbed 3.98 million barrels last week, the Energy Information Administration said Thursday. Prices started to rebound after European Central Bank President Mario Draghi said that the bank might take more measures in March to bolster the economy.
"Oil is searching for a bottom," said Rob Thummel, a managing director and portfolio manager at Tortoise Capital Advisors LLC who helps manage $13.5 billion. "I can't tell you if we've found it, but it seems that a lot of people are testing after the report."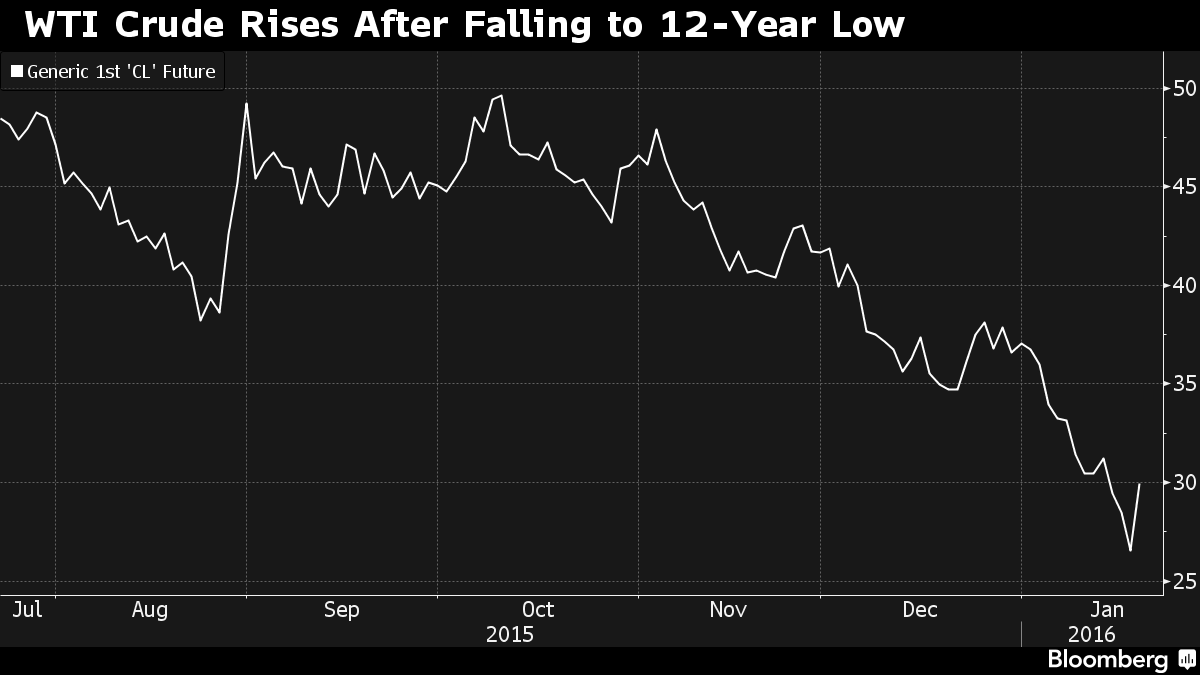 Crude is down about 20 percent this year amid volatility in Chinese markets and speculation the removal of restrictions that capped Iran's crude sales will help to prolong a global glut. The world energy industry is facing "very sharp shocks" as it struggles to deal with a "flood of oil," BP Plc Chief Executive Officer Bob Dudley said at the World Economic Forum in Davos, Switzerland.
West Texas Intermediate for March delivery rose $1.18 to settle at $29.53 a barrel on the New York Mercantile Exchange. The February contract expired Wednesday at $26.55, the lowest close since May 2003. Total volume traded was 54 percent above the 100-day average at 2:50 p.m.
Equities Gain
Brent for March settlement climbed $1.37, or 4.9 percent, to $29.25 a barrel on the London-based ICE Futures Europe exchange. The contract fell 3.1 percent to $27.88 Wednesday, the lowest since November 2003. The European benchmark crude closed at a 28-cent discount to WTI.
Energy companies were the eight biggest gainers on the Standard & Poor's 500. The S&P 500 Oil & Gas Exploration and Production Index climbed 6.1 percent, the biggest gain in a month. Range Resources Corp., an oil and gas company, climbed 18 percent, the biggest gain on the S&P 500.
U.S. crude stockpiles climbed to 486.5 million barrels in the week ended Jan. 15, EIA data show. They reached 490.9 million in April, the highest since 1930, according to weekly and monthly data from the agency. Stockpiles at Cushing, Oklahoma, the delivery point for WTI and the biggest U.S. storage hub, rose by 191,000 barrels to a record 64.2 million.
Crude output rose by 8,000 barrels a day to 9.24 million. That's down from a four-decade high of 9.61 million reached in June, weekly data show. The gain occurred as U.S. producers cut the number of rigs drilling for oil to 515, the fewest in more than five years, according to data from Baker Hughes Inc.
Market Correction
"Producers are responding to the price signals," said Adam Wise, who helps run a $7 billion oil and natural gas bond and private equity portfolio as a managing director at John Hancock in Boston. "Companies are announcing huge cuts in capital expenditures and the rig count continues to drop. These are signs that the correction is starting to take place."
The global energy industry slashed more than $100 billion in spending and 250,000 jobs last year to keep pace with crude prices that have fallen by 75 percent since June 2014. Explorers and producers are expected to cut spending another 15 percent this year to $444 billion, J. David Anderson, an analyst at Barclays Plc, wrote last week in a note to investors. It's the first "double dip" spending drop since 1986 and 1987, according to the note.
Gasoline stockpiles climbed 4.56 million barrels to 245 million. Inventories of distillate fuel, a category including heating oil and diesel, dropped 1.03 million barrels to 164.5 million.
February gasoline futures rose 1.3 percent to settle at $1.0312 a gallon. The contract ended Wednesday at $1.0177, the lowest close since December 2008. Diesel for February delivery increased 3.7 percent to 89.75 cents, up from 86.57 cents at yesterday's close, the lowest settlement since April 2004.